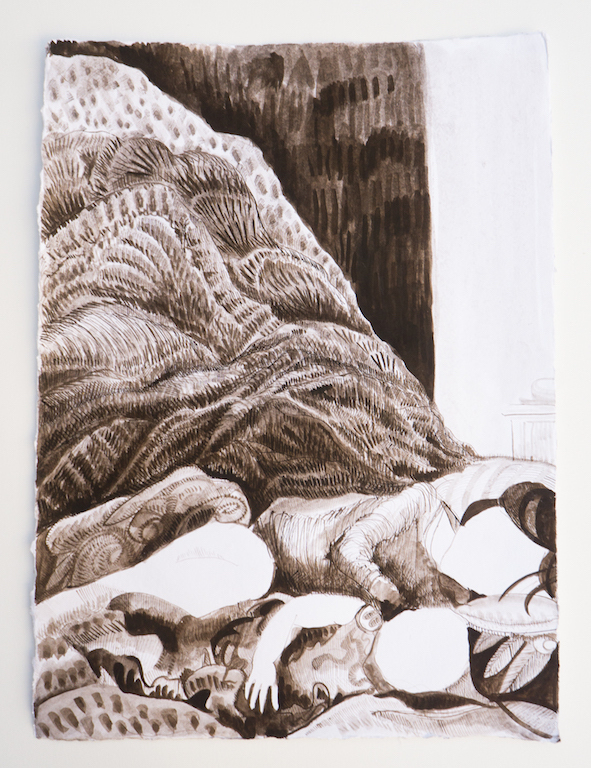 1. Stages 1, From Memory 1994: Sheet'ká, Alaska,
2017, 22"x29.75" Charcoal, Pen, Graphite, Ink on Paper
Additional Details
Stages 1-7 are drawings of actual places I have physically performed. As I riff on grief and the phases or "stages" of grief, the visions of literal stages come to me again and again. Much of my dream life exists in this space. These drawings are influenced by emotion of architecture and the sketches of Julie Mehretu and Jenny Saville.
Life and Death of Erling Munro
2016, 102"x 27", Latex ink/ India Ink/ acrylic medium/ charcoal/ vinyl
Additional Details
Part 1: Into the World Part 2: Drop Off/Client-Pump-Repeat:In Client-Pump-Repeat a ritual done in broom closets and bathrooms every few hours by every nursing mother is depicted. Expressing breast milk is an invisible, uncomfortable, and time consuming act. Part 3: Missed Call Part 4: Is He Breathing/Is He Gone?The text came through. He'd been taken via ambulance to a hospital, but which one? I got there finally. And because it's LA, I threw my key to the valet at the ER. I was greeted by woman who said Are you Mom? I pulled the curtain back and the doctor asked What does she know? Talk to her! The curtain closed and I had two question for the intern Is He Breathing? Is He Gone? Part 5:To Care for Him in Death as We Cared For Him in Life I used squares to divide the page like sticky notes listing the tasks at hand. I became extraordinarily pragmatic. Once all my tasks in the hospital were completed, the structure was gone. The memory box for all that was left.
Life and Death of Erling Munro (scroll)
Video, 2016
Additional Details
Confronted by the question what do I want to do as a maker and what can I do as a maker to explain a tragedy? Originally a six-frame graphic poem, this scroll is a result of answering the question "What happened?" thousands of times. Inspired by cinematic storyboards first, and the visual language of the graphic novel second, I attempt to tell the story visually. Initially, I considered using the billboard as the format for telling the story. Inspired by the Ripley Scroll I choose this format of viewing for its intimacy. Like the Ripley Scroll, I am considering making multiples. This was my first completed drawing on printed vinyl. Vinyl as a surface is interesting and appropriate for a scroll that will be touched again and again. The material is ideal for its durability. A few years ago vinyl was investigated as a contributor to "Gas Theory," a possible culprit of SIDS... The story of my son's life drawn on surface that may have contributed to his death.
Stages 2, from Memory 2000: Cossitt Studio
2017, 22"x29.75" Charcoal, Pen, Graphite, Ink on Paper
dead baby club/ memory box, (folio) Video 2016
Video: Cardboard, tissue, silk, octopus ink, cotton rag paper, cotton tether. 11"x 13.5"x3.5"
Additional Details
In Dead Baby Club/Memory Box, an ongoing project examining Grief and Art Practice, I have replicated the work of four twentieth century artists. The works on rag paper are meant to be touched. Though rag paper is a greedy surface for working in octopus ink, the texture and softness of the paper is evocative of flannel baby blankets hung to dry. The cumulative grief of Alice Neel, Kathe Kolliwitz, Frida Kahlo, Stella Haase and my own work hide together under a tether. It's there to be opened and closed by anyone willing to witness and share the weight. Though emotional, it is not precious. It is meant to be touched wth bare hands, meant to show the wear tear, to be peeked at in a stolen moment at the kitchen table, when no one else is looking.
dead baby club/ memory box, (folio)
2015-2017, 11"x 13.5"x3.5" with 8 - 10" x 10.25" drawings, Octopus Ink/Rag paper/Cardboard box/Silk/Cotton Tether
Additional Details
These drawings are based on pre-existing work. They are small, meant to be held in you hands. Rag paper is a terrible choice for octopus ink because it's greedy, sucking up the ink on my brush almost before it touches the page, but its texture resembles a baby's blanket after it has dried on the clothesline. The octopus ink is completely indelible once it dries on paper: a substance meant to be ephemeral transforms to something so permanent: After Kathe Kolliwitz, After Futility of Effort by Alice Neel, After Munro/So You Can Take Home His Smell (drawing made by me two months after the death of my son), After Henry Ford Hospital Detroit by Frida Kahlo, After Sarcophagus 1- document of funerary box painted for my son's cremation. After Grief (Der Gram) 1917 Stella Hasse, After Mary Frank's every night when the sun goes down (pablo and andrea), After commissioned death mask "Our Boy"
Stages 3, From Memory 1999: Armstrong Hall
2017, 22"x29.75" Charcoal, Pen, Graphite, Ink on Paper
If Phil Guston's Baby had Died Instead of Mine (triptych)
6"x18" ink and brush on paper, 2017
Additional Details
I have been told if I was a man making paintings about mourning a child, my work would have more traction. From a series of 5 tryptics made of small drawings: "If____'s son had died instead of mine" How Might We... Use the language of other artists' to express emotion and narrative? The cut onsie, the flying breast pump resting on a cabbage leaf, the breast pump tubes looped into the in-n-out paper.
What on Earth" from What Not To Say: Volume One
octopus ink, Pen, india ink on Paper, 9"x12", 2017
Additional Details
Excerpt from a comic book "What Not To Say: Volume One." A lovely collection of outlandish things said to me by clients about the death of my son. Zingers include: "Something worse could have happened later!" and "But... Like your daughter wasn't really attached, Right?" You will laugh. You will cry... You will think "Hmmm... I really hope I didn't say that!"
Full transcript at www.alexisrobertskeiner.com/wnts_draft
E-Publish Date estimated Summer 2018. Represented by Rebecca Friedman Literary Agency
Stages 4, From Memory 2001: Bemis Black Box
2017, 22"x29.75" Charcoal, Pen, Graphite, Ink on Paper
Tabernacle of the Grieving Sisters
97"x106" india ink/acrylic medium/charcoal/latex print
Additional Details
During my initial investigation in to images of bereaved women, I overlooked perhaps the most famous grieving mother: the Madonna. Based on the Tabernacle of the Linaioli by Fra Angelico. My surviving children replace the disciples surrounded by the worldly goods that link them to time, memory, or legends of their brother.
Children: Dorothy, Erling, Loïs
2016,
60" x84", India ink, acrylic medium, gesso on paper
Additional details
This started simply: portraits of my two surviving children standing in houses, and an empty house for the child who died. After I completed these drawings, they sat pinned to the studio wall for months, staring at me as I started and finished other works. They were not accurate representations somehow. They were too clean, too pretty, too proper. How does one depict the pervasive of grief that gets in everything and covers everything one sees? My adopted city of Los Angeles often has the answers, and here it came through gang tags sprayed across murals. The grief is like that invisible kid with a spray can zipping through the city, impossible to catch, popping up again and again where least expected. I began to tag the work using india ink to tint gesso, acrylic gel, and gloss medium. I used no pre-mixed black paint. The "m" tag, like grief, repeats and repeats saying "I am gone now, but I was here." Invisible, ever present.
stages 5 From Memory: West Anchorage Auditorium
2017
Charcoal, Pen on Paper, 22"x29.75"
Alder on the Stairs
2015, 83"x61",india ink/graphite/charcoal/conte on paper mounted on canvas
Additional Details
My figural work is influenced by my undergraduate studies in Dance, specifically, the academic study of Butoh, where dancers explore similar themes of the child and loss. Concerns with the spiral, memory, and the archetype of the child were at the forefront my mind when doing this drawing. The scale is also of note: this drawing it is a more than life size representation of the child depicted.
Alder Sleeping, While They Sleep
2016, 90"x59.9", India ink on Paper
Additional Details
Landscape of the Mundane. This series started in the two years following the death of my son, when I made a pastime of watching my children sleep. The original sketch made from life, this is documentation of the vigil I kept while my remaining children slept, the seemingly mundane activity responsible for my son's death. Unlike Robert Longo's sleeping children that are trying to stop time, this series was born out of a need to keep watch.
stages 6 From Memory 2002: Palmer Hall
Charcoal, Pen on Paper, 22"x29.75" 2017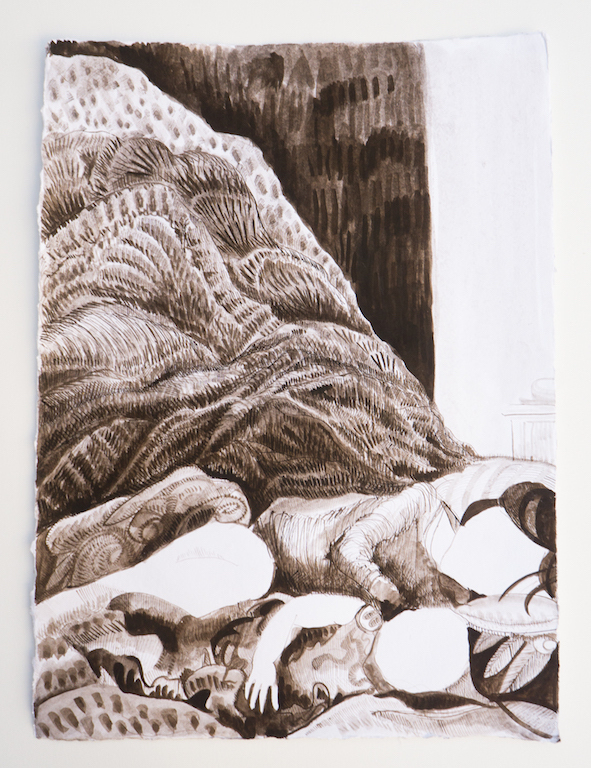 While They Sleep
2015, 24"x 21",Octopus Ink On Rag Paper
Additional Details
Evocative of the Victorian post-mortem photographs, the "While They Sleep…" series is based on scores of sketches done in the two years following my son's death when I made a pastime of supervising my sleeping children. The materials play an imperative role. The indelible octopus ink is layered wash upon wash to build a living surface, rich in pattern and tone. The rag paper is a greedy surface, but is evocative in size and texture to a flannel baby blanket. Though this work is figurative, it is also a Landscape of the Mundane. Interesting to note, the tones present in the ink are variable based on the diet of the individual octopus. After the shrimp population crashed in the 1970s, all of the ink pulled from Kachemak Bay has been cooler in tone. In the past five years the shrimp population has been making a comeback, leading to a warmer, more red tone.
While They Sleep 2
2015, 24"x21",Octopus Ink On Rag Paper
Additional details
From Landscape of the Mundane. All octopus ink used in this portfolio was collected catch and release in Alaska. It is a process that requires a very low tide, a quiet step, a hypodermic needle, and a fair amount of guts. The ink is an incredibly dense substance. so dense in fact it will pull water from your brush. These drawing were each made with less than a half teaspoon of ink.
stages 7 From Memory 1997: Paladio's Teatro
Additional details Charcoal, Pen on Paper, 22"x29.75" 2017
Baby John Doe 8/14/2012,
2012, 12"x16", Pastel and Crayon on Cardboard
Additional details
Drawn from memory. Drawn three months after his death, here my son lies in repose wrapped in the blanket donated to our family by Cedars Sinai ER so we could "take home his smell." After I completed painting the funerary box in August of 2012, I was concerned I would not be able to return to my drawing and painting practice. As Victorian and romantic as it sounded to have the last thing I painted be my son's casket, I was determined for that not to happen. This drawing was the first completed drawing examining bereavement. This piece lead to "Dead Baby Club/ Memory Box" and "Life and Death of Erling Munro."